This is a Jane Austen Fan Post
I spent two weeks in southern England with my parents, husband, and preschooler in April, and we spent a couple of days visiting Bath, which was a popular city with fashionable Georgians. And since books about fashionable Georgians are popular with me, it was exciting to see so many scenes from so many books I've loved in real life.
(Pro-Tip: Depending on how you play it, England can be much cheaper than Disney World.)
The most famous name associated with Bath is probably Jane Austen. She lived there for several years in the first decade of the 1800s, and two of her novels, Persuasion and Northanger Abbey (my favorite), use Bath as one of their settings.
At the Jane Austen Centre, my daughter earned a book for good behavior on the tour. It's a Jane Austen find-it with graphic novel style retellings of all six novels. It's awesome. And yes, I totally intended it to be a Jane Austen gateway book.
On another day, we visited the town of Lacock, which is mostly operated by the National Trust as a film site for every English period drama you've ever seen.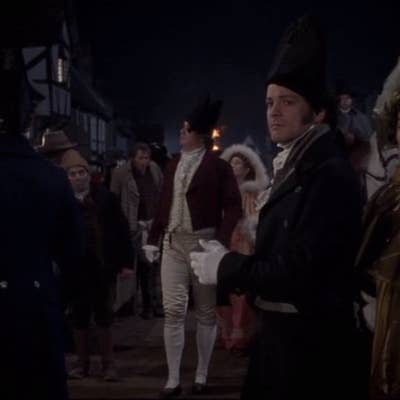 It served as Meryton in the 1995 Pride and Prejudice (otherwise known as the best P&P), and it didn't take my daughter long to figure out that there are movies of all Jane Austen's novels and that these movies often contain balls and fancy dresses. (Because no matter how poor the Bennets think they are, they're really not.) My saying, "Hey, do you want to watch the movie of this when we get home?" may also have helped her to this conclusion.
I wasn't sure she really would want to watch a Jane Austen movie, but we've made it through Pride and Prejudice and half the version of Emma that stars Romola Garai and Jonny Lee Miller (otherwise known as the best Emma). We plan to start Sense and Sensibility next (the 1995 one with Emma Thompson and Hugh Grant, obviously).
She thinks they're hilarious because there are "so many silly people in these shows," and while she doesn't necessarily get every detail, she gets Jane Austen's worldview, which is—in the Southern parlance of my childhood—"People's crazy," which is an important life lesson. She is firmly #TeamBingley. She identifies with Emma Woodhouse as the Austen heroine she most resembles, which is astonishingly self-perceptive of her. (I like to think of myself as Elizabeth Bennet, but I'm much afraid I'm really some combination of Catherine Morland and Anne Elliot or Fanny Price. Horrifying thought.)
In short, all my dreams have come true.